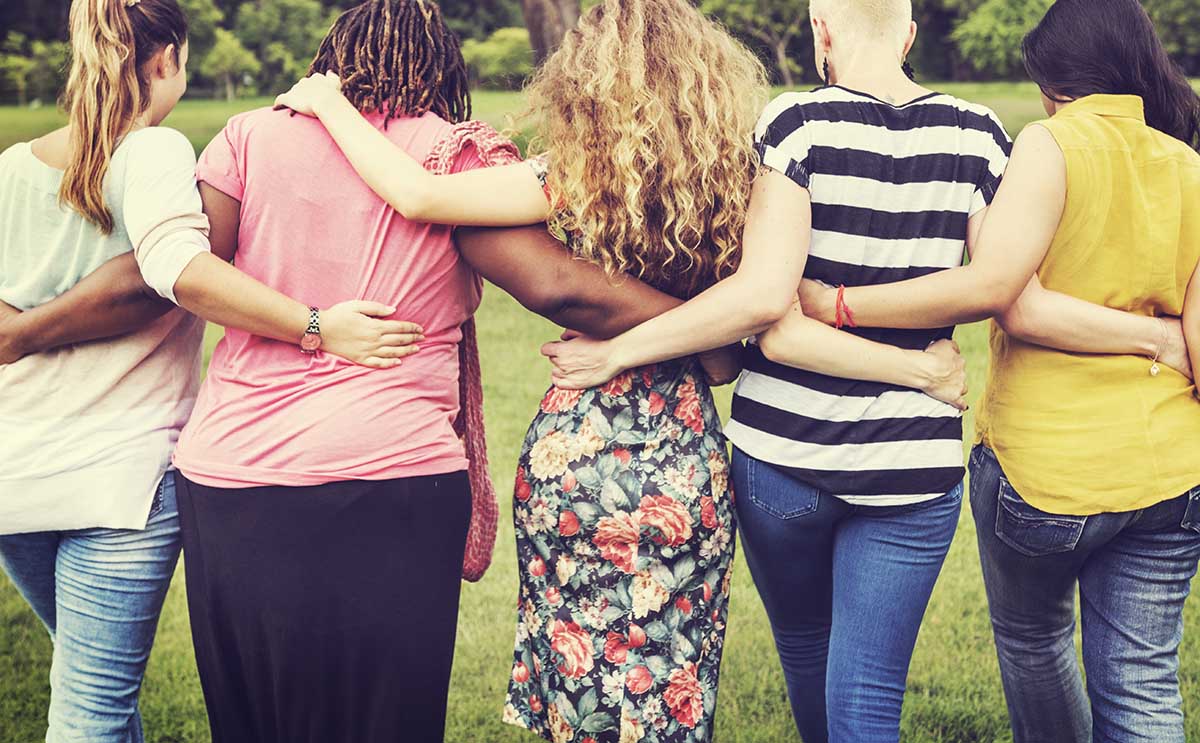 Periods are both exciting and embarrassing. Your first period can be an exciting event, knowing that you are becoming a woman and part of a sisterhood! And then you have a few more and experience some of the more embarrassing moments periods tend to bring. Whether you refer to them as "Aunt Flow," "on the rag," or some other slang term, periods are a vital part of any woman's life and we all experience them.
What is menstruation (your "period")?
Menstruation is the technical term for having a period. It means that the blood and tissue lining the inside of your uterus will flow down and out of your vagina. For most women, menstruation happens every month.
What is the menstrual cycle?
Your period occurs in a cycle. For the majority of women, this cycle starts every 28 days, from the first day of a period to the first day of the next period. But it's completely normal to have a cycle that is longer or shorter than 28 days.
Your menstrual cycle is there in case you get pregnant. The blood and tissue that builds up inside your uterus provides a cushion and nutrients for a baby to grow in (women's bodies are pretty amazing!). This is why your period stops if you become pregnant.
The menstrual cycle also causes you to have a period if you do not get pregnant. Your menstrual cycle is controlled by hormones. You may have heard of estrogen and progesterone. About halfway through your menstrual cycle, these hormones cause one of your ovaries to release an egg (ovulation). Most women don't feel anything when they ovulate, but sometimes ovulation can cause symptoms, such as bloating, spotting of blood in your underwear, or a little pain in only one side of your lower belly.
Your first period
After you reach puberty, your body is ready to begin menstruation. During puberty, your first period will start, usually between the ages of 12 and 14. Some girls get their periods earlier and some later, and that's normal. At some point during puberty, blood comes out of your vagina, and that's your first period. You may or may not have some premenstrual symptoms (PMS) a few days before it happens, but not everyone does. Even if you do, you may not know those symptoms are related to getting your first period.
Your period may start and stop around the same time as it did for other women in your family, your mom or sisters or aunts. If you have questions about getting your first period, talking with a parent or a trusted adult is a good idea.
How your menstrual cycle changes as you get older
Periods are usually heavier (more blood), longer and more unpredictable when women are in their teens. Their cycle becomes more regular after about three years. In their 20s and 30s, cycles are usually regular and lighter and the cycle is generally between 24 to 38 days. Some women also find that their periods become more regular and lighter after they have had a baby.
In your 40s, as your body starts the transition to menopause—a stage called perimenopause, your cycles might become irregular. Your menstrual periods might stop for a month or a few months and then start again. They also might be shorter or last longer than usual, or be lighter or heavier than normal. Perimenopause can have other symptoms besides normal PMS symptoms, such as hot flashes that will make you sweat a lot.
Most women stop having a period between 45 and 55 years old—a stage called menopause. Menopause can take a few years and women often experience changes in their periods. After menopause is complete, meaning you have no more periods and your ovaries stop releasing eggs, you cannot get pregnant anymore.
Importance of keeping track of your period
Keeping track of your menstrual cycle is important for your health, to know when to have sex if you are trying to get pregnant, and also to be prepared so you can plan ahead. Because your period can be unpredictable, especially in your teens, it can be hard to know for sure when you'll ovulate no matter how carefully you keep track of your cycle. If you don't want to get pregnant you should use some form of birth control every time you have sex.
Your healthcare provider will always ask you the first day of your last period, and sometimes you'll need to provide this information to play sports or physical activities. You can use a paper calendar to keep track of your cycle, but a smart device like your phone is the best way to keep track. There are many period and fertility tracking apps available. Some allow you to add notes about symptoms and you can also set reminders, especially if you are trying to get pregnant. Most apps will note your most fertile days (days you are most likely to get pregnant) after you have tracked more than one cycle. This way, you don't have to remember your last period and the information will always be with you in case you need it, such as a visit to your healthcare provider.
Feminine products for menstruation
There are multiple types of feminine hygiene products to choose from when you have your period. These products absorb or collect the blood and tissue that flows out of your vagina so that you can participate in your normal daily activities and sports. You may find that using a variety of products works best as your period will have a different amount of blood flow each day. These products help you avoid getting blood on your clothes or sheets at night, though sometimes accidents still happen. This is normal and nothing to worry about.
Pads
Pads are sometimes called sanitary pads or sanitary napkins. They are narrow and cloth-like, filled with absorbent material that absorbs and holds the blood to prevent it from leaking. The pads have a sticky strip on the bottom to keep them in place in your underwear. Some pads have flaps or "wings" that fold over the sides of your underwear to help protect against leaks and stains. You should change your pad when it becomes uncomfortable (wet) or soaked with blood.
Most pads are disposable—you use them once and then throw them away. NEVER flush a pad down the toilet. They should be wrapped up in a pad wrapper or toilet paper and properly disposed of in a trash can. Some pads are made from reusable and washable fabric.
Pads come in different absorbency types (light, medium, heavy, extra heavy, overnight) and lengths. For extra light flow days or the days leading up to your period, you can use panty liners, which are very thin and great for catching pre-period spotting. There are many different brands from which to choose.
Tampons
Tampons are round cotton "plugs" that you place inside your vagina to soak up the blood before it comes out. Most tampons come with an applicator to help you correctly insert the tampon. Other tampons can be inserted with your finger. Both kinds have a string attached to the end that sticks out of your vagina to pull out the tampon. A tampon cannot "get lost" or stuck inside you.
Tampons should be changed every 4 to 8 hours (or more often if they are overflowing). Just like pads, tampons come in different absorbency strengths, from extra light to ultra heavy. Wearing a panty-liner in your underwear is a good idea to avoid getting blood on your underwear, especially if your tampon overflows. Unlike pads, you can swim with a tampon in the vagina. Many women also find tampons easier to use when exercising or playing sports.
Caution! If you leave a tampon in for too long, it can cause a serious medical condition called toxic shock syndrome (TSS). TSS is extremely rare. If you're using a tampon correctly, you do not need to worry. However, if you're using a tampon and have vomiting, high fever, diarrhea, muscle aches, sore throat, dizziness, faintness or weakness and a sunburn-type rash, take the tampon out and call your healthcare professional right away. To help prevent TSS, use the lowest absorbency tampon needed and change your tampon every 4-8 hours or less.
Period underwear
Period underwear, also called period panties, are worn like regular underwear, but have extra layers of material that absorb your menstrual blood during your period. There are period underwear for light, medium, or heavy flow days. You can wear period panties by themselves or for use with a tampon or menstrual cup.
Menstrual cups
Menstrual cups are rubber, silicone or soft plastic "cups" shaped like a tiny bowl. You place the cup inside your vagina where it collects menstrual blood. These cups can be worn longer than tampons and you are unlikely to feel it once it is in the correct place. You may need to practice with it first. Most cups are reusable and meant to be emptied into the toilet. Then you wash it and put it back in. There are some disposable cups that can be thrown away after one use or after a period. NEVER flush a cup down the toilet.
Menstrual cups are worn for 8 to 12 hours at a time or until full. Some menstrual cups have a little "stem" attached to the bottom that you pull on to remove it, while others require you to hook a finger around the rim, squeeze it and pull it out. Just as with tampons, a menstrual cup cannot get lost or stuck inside you.
Note: If you have an IUD, don't use a menstrual cup. Using a menstrual cup can cause your IUD to shift out of position.
Feminine products to avoid
You should not use scented pads or tampons, vaginal deodorants or douches. These products can disrupt the natural balance of the flora in your vagina and lead to irritation or infection. It's normal to worry about the way your period smells, but as long as you practice routine personal hygiene and change your feminine products as needed, no one will be able to tell that you have your period.
What's normal and what's not normal?
You may have heard other people talk about PMS. PMS stands for premenstrual syndrome, which is just the name for the symptoms that some people get right before and during their periods. These symptoms vary from person to person – you may have none, some or all of the common ones. The symptoms happen every period for some women and only occasionally for others. Those hormones that cause menstruation are responsible for PMS.
There are two kinds of PMS symptoms: physical (your body) and emotional. Physical symptoms of PMS include:
Cravings for certain foods or being super hungry
Swollen and/or sore breasts (may hurt to be in a bra or out of one)
Feeling bloated (puffed up stomach)
Achy, lower back pain that makes it hard to sit comfortably
A very small weight gain that goes away after your period
Headaches, mild to severe
Dizziness
Swelling of your hands or feet from your body retaining water
Achy or painful joints or muscles
Being extra tired or needing more naps
Skin problems, like acne or "zits"
"Upset" stomach (feeling icky)
Cramps or pain in your lower belly
Canker sores (little open sores inside your mouth – these are NOT herpes, but "aphthous ulcers." Some people get them and some do not. They are not a sexually transmitted disease and their cause is unknown.)
Emotional symptoms of PMS include:
Mood swings
Crying suddenly or easily
Feeling sad, tense or anxious
Feeling irritable or angry when you normally would not
Trouble concentrating
Sleep problems (trouble falling or staying asleep)
Not feeling social or wanting to be around people
Changes to your desire to have sex (less or more)
Though PMS is perfectly normal, you should track your symptoms and let your healthcare provider know what they are, especially if they interfere with daily activities. Although PMS symptoms can be irritating and frustrating and even painful, you should still be able to do everything you normally do when you don't have your period. Many of the symptoms can be treated with over-the-counter medications when needed (especially for cramps and bloating). Your healthcare provider may have other remedies for you to try for especially bothersome symptoms. Heating pads and exercise and other home remedies work well for many women, too.
Some people have very severe PMS that's called premenstrual dysphoric disorder (PMDD). Tracking your symptoms is extremely important to diagnosing this condition and a visit to a healthcare provider should be made immediately.
When to call your healthcare provider
Your menstrual cycle can affect other existing health conditions such as depression and anxiety, irritable bowel syndrome, perimenopause (the time period right before menopause) and thyroid disease. All of these conditions can act like PMS and vice versa, causing you some confusion as to what is happening. Visiting a doctor is the only way to know for sure what's going on.
You should also contact your healthcare provider if you have any of these other signs and symptoms of potential problems:
If you don't get your period by the time you're 16, though this may be normal in teens who are extremely athletic or have a family history of late starting periods.
If you have menstrual cycles that are longer than 38 days or shorter than 24 days, or if you are worried about your periods for any reason. Long or irregular period cycles can be a sign of a condition called polycystic ovary syndrome (PCOS).
If you are suffering from PMDD, the symptoms can be very scary. You may feel emotionally out of control, depressed, have panic attacks, or even feel like harming yourself. None of these symptoms are normal for regular PMS. If you think you're experiencing any PMDD symptoms, you should see a healthcare professional immediately.
If putting in a tampon or menstrual cup is very painful. You may have a medical condition that needs to be treated, such as a bacterial infection. Or, your anatomy may be making it difficult, such as your hymen covering the opening to your vagina.
If you need to visit a healthcare provider, we have locations conveniently located all over New Jersey. Contact a health center near you today.