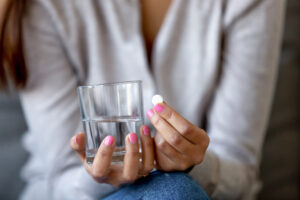 If you had sex and didn't use birth control—or think your birth control failed—don't panic. You still have options to prevent pregnancy, such as emergency contraception.
Here's what you need to know.
What Is Emergency Contraception?
Emergency contraception is a way of preventing a  pregnancy from taking place. It's not a method for aborting or ending a pregnancy that has already occurred. It's also not a way of preventing sexually transmitted infections (STIs)—condoms are the only type of birth control that offer STI protection when used correctly. 
What Are the Types of Emergency Contraception?
There are two main types of emergency contraception. You can either get an IUD placed or take an emergency contraceptive pill (also referred to as the "morning after pill"). Either way, it's essential to do one of these immediately.
The Intrauterine Device (IUD)
A copper IUD is the most effective type of emergency contraception. If a provider inserts a copper IUD within 5 days of unprotected sex, it lowers your chance of getting pregnant by 99.9%.  Once a copper IUD is in place, it can safely stay in your uterus for 12 years and continue preventing pregnancies during that time. 
The Hormonal IUD, 52mg Levonorgestrel, can also be used as emergency contraception and is just as effective at preventing pregnancy as the copper IUD.
Emergency Contraceptive Pills
If you'd rather take a pill, you have two options. One is available over the counter. This is a progestin-only pill also known as Plan B One-Step®. Taking this pill prevents pregnancy by stopping or delaying your release of an egg or by making it hard for sperm to get access to an egg that's already been released. You can take this within 72 hours of unprotected sex to prevent pregnancy—but the sooner, the better.
Another emergency contraceptive pill, called ulipristal (Ella®), is even more effective. This pill works in a similar way to Plan B but is available by prescription only. The Ella® pill can be taken up to 5 days after sex.
You may be asking yourself, how effective are emergency contraceptive pills? The good news is that they are highly effective at preventing pregnancies. Since emergency contraceptive pills are more effective the sooner you take them, you may want to consider keeping a box at hand in case you need them. Side note and word of caution: Both pills may be less effective at preventing pregnancy for people with higher body mass indexes (BMIs).
What Are the Side Effects of Emergency Contraception?
There no serious side effects, but you might have mild effects like fatigue, nausea, or breast pain. Emergency contraception might also cause changes in your next period (it may come sooner than normal, be later, or might be heavier or lighter than usual). Taking emergency contraception won't make it harder for you to get pregnant in the future.
How Can You Get Emergency Contraception?
If you think your birth control method failed or you didn't use birth control, NJFPL health centers can help support you with navigating your options. Find a health center that is closest or most convenient to you and call to set up your appointment.