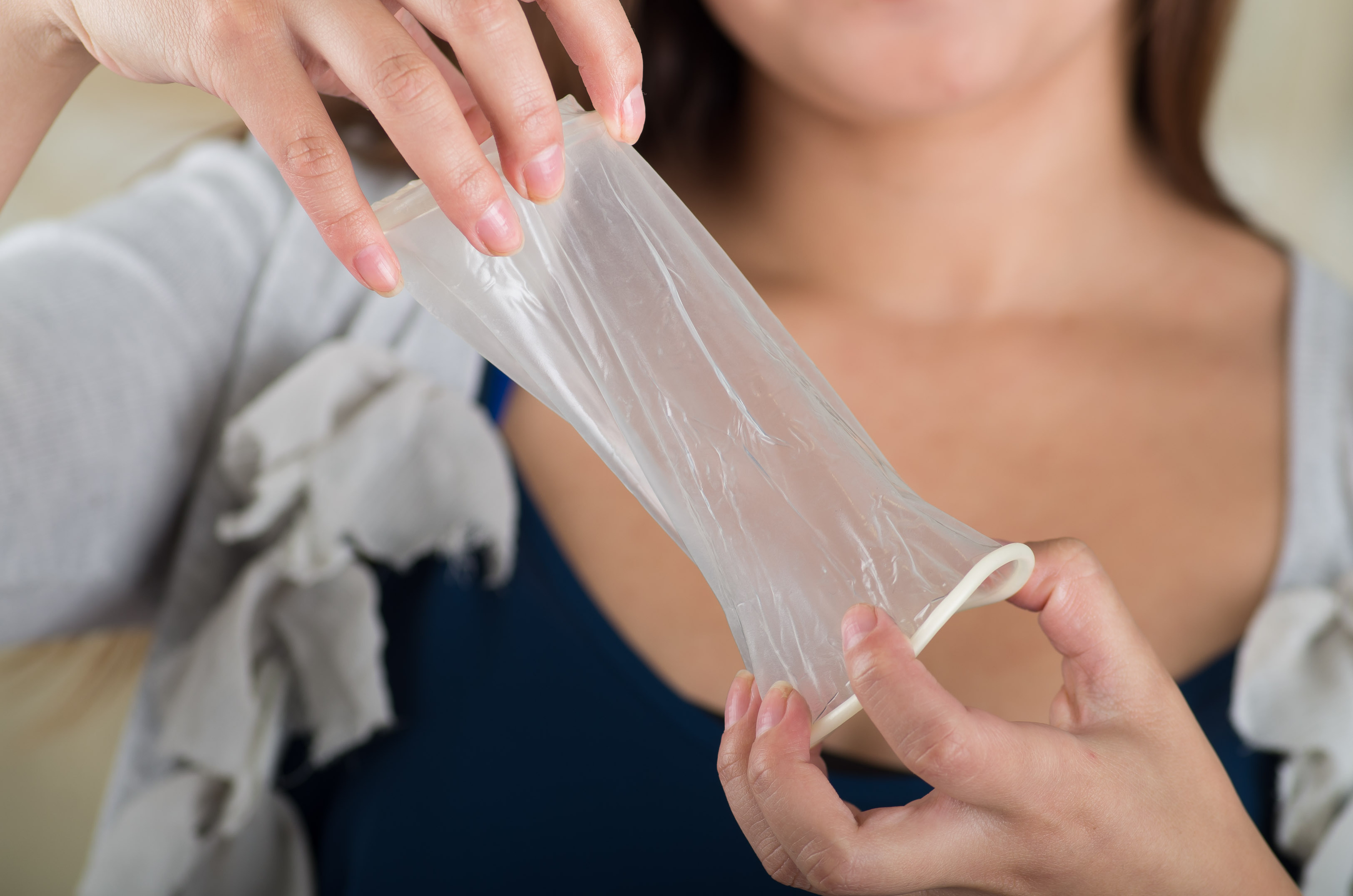 While internal condoms (sometimes called female condoms) aren't as popular to use, they can be a great option when practicing safer sex. An internal condom is inserted into your vagina, working the same way that other condoms do, except that you wear it inside of you instead of putting it on a penis. When used properly, they can be just as protective as regular condoms, and give you lots of control.
How to Use an Internal Condom
An internal condom is a little bit bigger than a regular condom, but it can be easy to use with a little practice and isn't uncomfortable when inserted correctly. Here's how they work:
Make sure the internal condom hasn't expired by checking the expiration date, and then open the package carefully, making sure it doesn't rip.
Internal condoms come lubricated but feel free to add more lube if that makes you more comfortable.
If you are putting the condom in your vagina, leave the inner ring in. If you are putting it in your anus, remove the inner ring.
Take a deep breath and relax, getting into a comfortable position. Usually, standing with one foot on a chair, lying down or squatting are go-to's.
If you are putting it in your vagina, squeeze the sides of the inner ring together at the closed end of the condom and put it in like a tampon. Make sure to push the inner ring into your vagina as far as it will go, up to your cervix. If you are putting the condom in your anus, simply push it in with your finger.
Make sure the condom isn't twisted. Once you pull out your finger, the outer ring should hang about an inch outside your vagina or anus. If that's the case, you're good to go!
When a penis or sex toy is going into the condom, hold the condom open to make sure it doesn't slip to the side between the condom and your anus or vagina.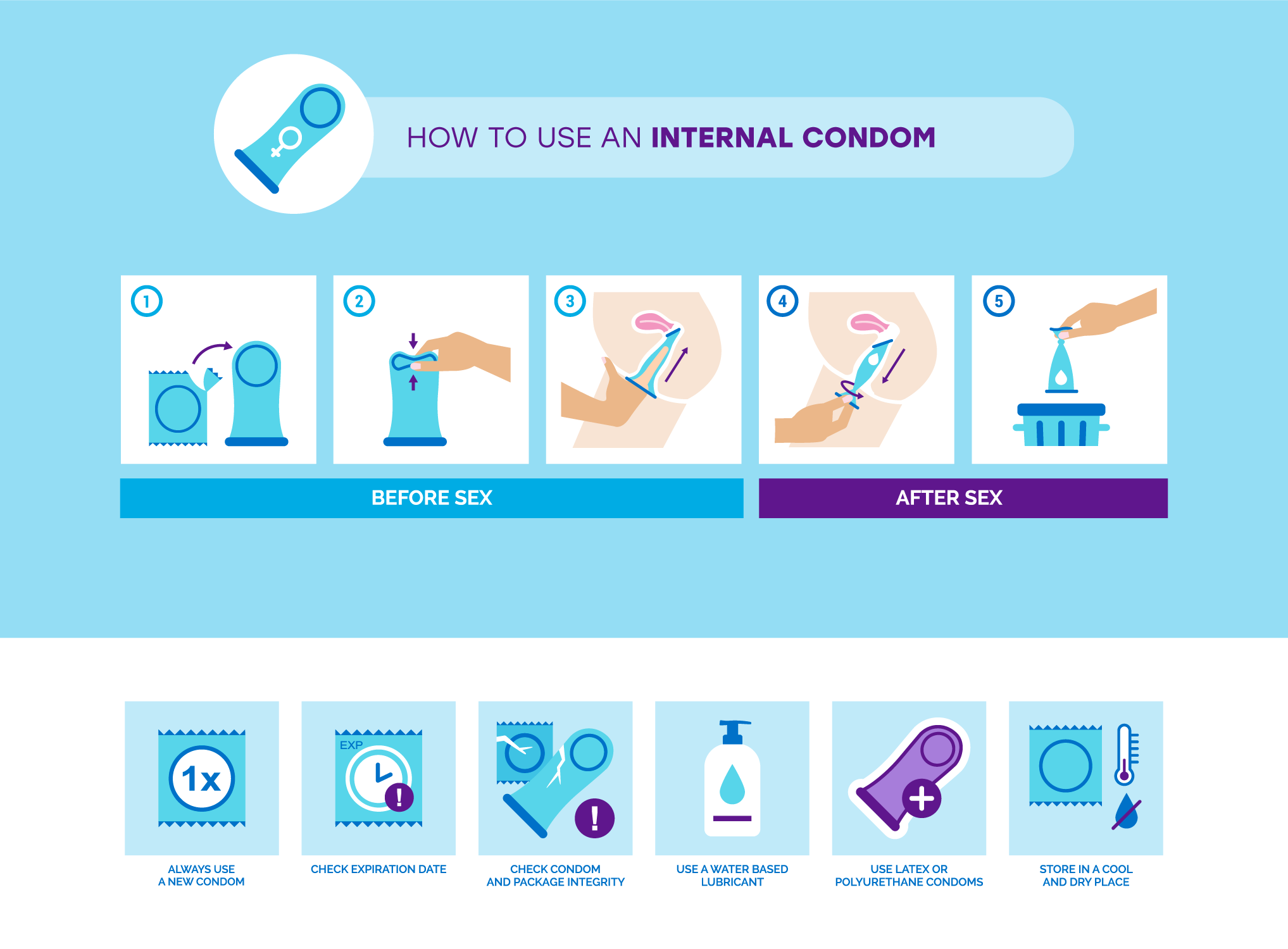 Taking the Internal Condom Off
Removing an internal condom may seem easier than putting it in, but it's an important step to get right. If you spill semen from it, it can potentially expose you and your partner to STIs or pregnancy:
If there is any semen (cum) in the condom, twist the part that's hanging out (the outer ring) to keep the semen inside the pouch.
Gently pull the condom out of your vagina or anus, being careful not to spill the semen if there is any present.
Throw the condom away in the trash. You never want to flush any kind of condom as they can clog your toilet.
Internal condoms aren't reusable, so make sure to grab a new one every time you have sex.
Proper Use of Internal Condoms
If you choose to use an internal condom, make sure to use a new one every time you have oral, vaginal or anal sex. There is also no need to use a condom for the penis, as this can cause them to rip, due to friction. The internal condom will be enough.
It is completely normal for the internal condom to move a little bit during sex, but make sure the penis or sex toy is completely surrounded by it at all times. If the penis or sex toy slip out of the condom, and there is no semen (cum) yet, you can gently move the condom back into place. If pre-cum or cum get near your vagina or anus, and you're worried about STIs or unintended pregnancy, you may want to think about getting tested, or getting the emergency contraception (the morning-after) pill.
One of the coolest things about internal condoms is that you can put them in before the action gets going, even before foreplay. If you and your partner want to, they can even insert the condom for you.
New Jersey Family Planning League is dedicated to providing sexual education and sexual health services for anyone who needs them. That's because sex education is the responsibility of everyone who is sexually active. If you have questions about sexual health or practicing safer sex, contact your nearest NJFPL-supported health center today.